Triangle Twist Star (CFW 147)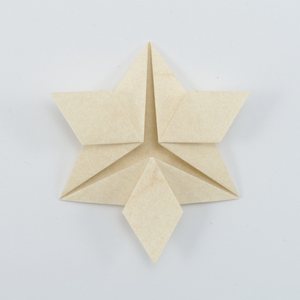 A very simple star designed by Shuzo Fujimoto. Folded from an equilateral triangle, but the star itself has hexagonal symmetry.
This models seems to have also been independently designed before Fujimoto: it was part of elementary school program in France in the XIX century and published in Le journal de classe by Gustave Ducoudray in May 1892. The source of the model is not listed, and was probably not known, so I assume we should consider it a traditional model. I got learned this interesting information thanks to Michel Grand.