Crane with Color Change (Left-Right)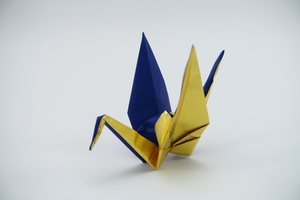 This variant of the Traditional Crane adds a color change along the axis of symmetry. It's a very simple change, based on blintzing, and I'm pretty certain I've seen it done by others also.
The model bears colors of the flag of Ukraine 🇺🇦 because yesterday was Ukraine's Independence Day, and at the same time, exactly six months since the start of Russia's full-scale invasion (remember that a small-scale war has been going on since at least 2014 when Russia attacked Ukraine and seized Crimea).