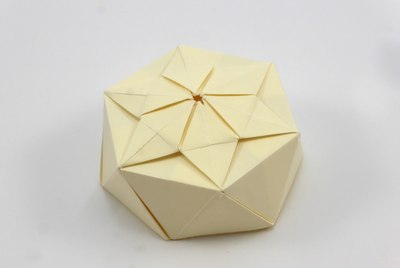 Folding Lucky Star Box (Simplified) was also a test of Fedrigoni Splendorgel paper which I discovered at a local PaperConcept store. The exact variant I tested was 100 gsm, Avorio color.
The paper is very smooth and silky to the touch. It behaved nicely both during the precrease and during the collapse. I found it to be thin for its weight which made precise precreasing possible. Crease lines were crisp and went exactly where I guided them, without bleeding to the sides. Overall, I found this paper to be really good for this model, both visually and as far as folding properties go. Unfortunately, the only size they have at the store is A4 which is fine for a box but may be a bit too small for tessellations.
Update: at a later point, I reviewed the same paper (though a different color): see Splendorgel Paper Review 2.