Światowy Dzień Origami w Pytanie na Śniadanie [PL]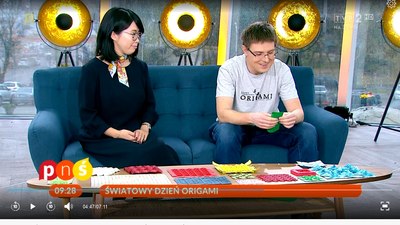 On October 24th, 2018, during World Origami Days, I made a brief appearance on the TV show Pytanie na Śniadanie, talking about origami.
You can view the recording on the Polish National TV page: Origami — japońska sztuka tworzenia figur z papieru bez użycia kleju i nożyczek (the show is in Polish language).
Note that the show hosts added some comments about origami, both in the text of the page linked above and during the show, which came from them rather than from me and which I do not endorse.