Special Guest at German Convention 2023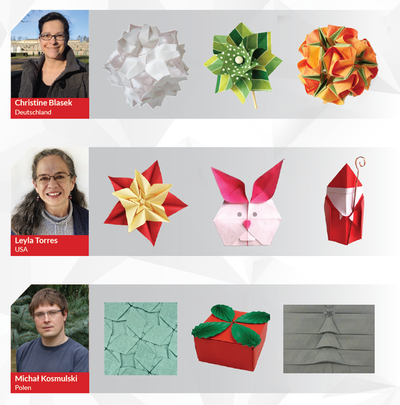 It is my great pleasure to let you know I will be one of the special guests at German Origami Convention in 2023, together with Tine Blasek (Kalami) and Leyla Torres. The convention will take place in Erkner near Berlin, Germany, on May 12th-14th, 2023. Registration is open until February 7th. You can find all information about the meeting on Origami Deutschland page.
I am very honored to be invited and very happy to get back to Erkner. German Origami Convention is one of the largest in Europe, with lots of guests from all over the world. There are, of course, workshops and exhibitions, as well as a large space for free-folding in the evening, a design competition, and a huge selection of papers in the shop, including John Gerard's stall with unique hand-made papers. I'm looking forward to meeting you there, both during the official workshops, and to fold and chat in the free folding zone.
Update: summary of the convention is now available.