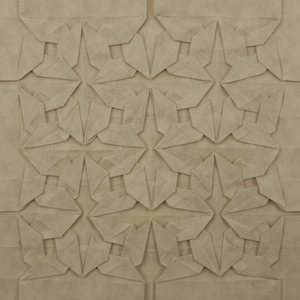 I derived this design from my older Double Spearhead Tessellation. The name comes from the pattern on the front side.
On the other hand, the back side is probably more interesting. It has no parallelograms but instead it is an almost-flagstone tessellation of interwoven rhombi and squares. Together with the back-lit view, it also makes this model's relation to Double Spearhead Tessellation more apparent than the front.
This model is folded from Goat Skin paper, and I used the opportunity to write a review.
Comments