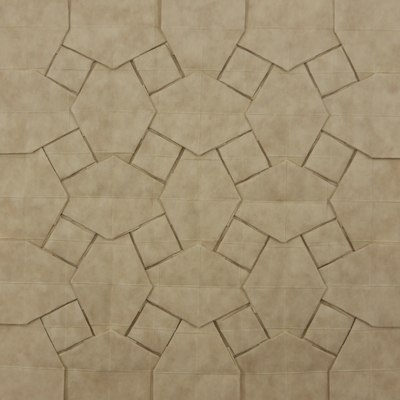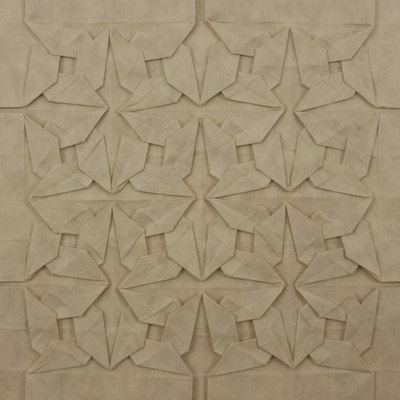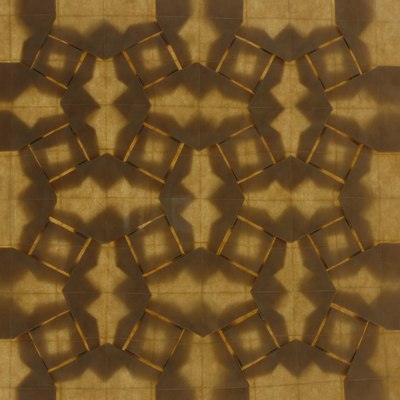 Woven Parallelograms Tessellation is folded from Goat Skin paper which I stumbled upon at the Italian CDO convention in 2018. Unfortunately, I didn't get any information about the producer, and the name "goatskin paper" seems to be used as a generic term for thick parchment-style paper. Anyway, seeing it for the first time made me think this paper is trying to pose as an Elephant Hide replacement since it's of similar thickness, looks quite similar, and uses the word "skin" in its name. Unfortunately, after folding a few models out of it (apart from the tessellation shown here), I ended up with mixed feelings towards it.
First, the good parts. The paper looks really nice, and it is pleasant to the touch due to its silky and relatively soft surface. The lighter colors are translucent against the light while darker colors are much more opaque, with black letting almost no light through at all.
At CDO, both large (B1) sheets and packages of 24 cm squares were available. I haven't folded the big sheets yet, but the squares gave me the first disappointment: they were cut with little precision, and one of the sheets had about 2-3 mm length difference between its different sides. I had not expected that, and only realized something was wrong after I started folding the grid. I did finish the model, but it ended up really terrible: for geometric folding, precision matters. The Woven Parallelograms Tessellation shown here was the second model I folded from this paper, so I was more wary of the inaccuracies, and this model also uses a larger grid which allowed the errors to balance out a little. Stil, you can see in the finished model that the grid was far from perfect. Knowing of the inaccuracies, you can try to snip the sheets to more precise dimensions, but the very point of buying pre-cut squares is not having to worry about such things.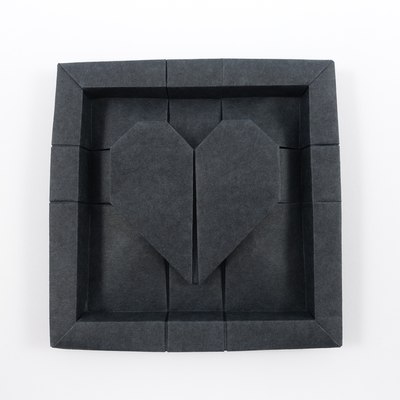 This paper is much softer and less stiff than Elephant Hide, or even Tant. It proved stiff enough for folding the model, but I prefer paper that is more rigid since that allows for more precise precreasing and folding. During precreasing, the paper stretched a little, which made the issues caused by imprecise dimensions worse. There was a noticeable difference in folding resistance between the two perpendicular directions. Folding with a bone folder made creating relatively clean creases possible, but without it, the creases perpendicular to paper grain were not smooth. The collapse went quite OK, though I felt the paper was just a little too soft and might not be so great for a more complex collapse.
While those first impressions were mediocre at best, I was somewhat happier with the third model I folded, a Framed Heart from black Goat Skin paper. That sheet was not perfectly cut, either, but the difference to a perfect square was less than for the previous sheets. While the paper still felt just a little too soft, the pre-crease was not bad at all, and the collapse caused no issues. I'm not sure if this was a result of a change in my own perception or if that particular sheet actually had different properties (there are papers where different colors also differ in properties other than just the look).
So, I'm left with mixed feelings for this paper: it's certainly not super great for tessellations, but based on the last time I used it, I think it may be at least decent for this purpose, and the looks and surface are really nice. Perhaps I should give it another try some time.