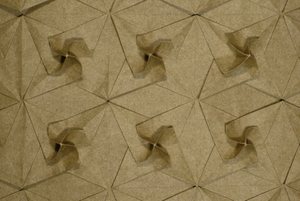 This origami model consists of the simplest molecules of my Twisted Bird Base Tessellation. Each molecule is basically a bird base with the central part raised and twisted for a nicer shape. Apart from the simple molecule used here, many other variants are possible, some of which are shown in this model.
Collapse is a bit challenging because multiple points on the creased sheet of paper must meet at a single point in the collapsed pattern.
A generalization of this molecule is the Twisted Bird Base Fractal.
Comments