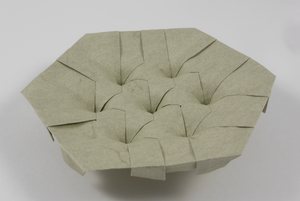 This is a very cool model, designed by Roman Remme.
Due to the curvilinear folds which were designed with the help of computer software, the crease pattern can not be created by hand but has to be plotted or pre-creased by machine. I had the pleasure of folding this model in Roman's workshop at the Origami Outdoor Meeting in Kraków, Poland, this year.
Since Robin beat me to it and published pictures of his fold first, I'm adding a picture of this model backlit. It shows the structure of the twists quite well. After some getting used to, these twists were actually quite intuitive to collapse and not so much different from regular planar twists.
Comments