Box with Woven Triangles VII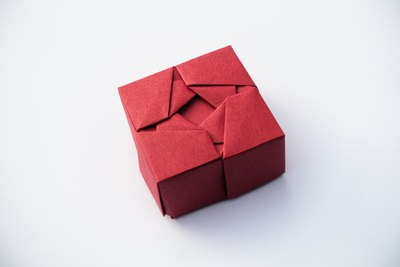 Below you can find a precrease pattern and pictures of the collapse. This sequence shows the clean precrease which you get without folding the complete grid. You can construct the clean precrease by origami methods alone. You can find some tips on how that works in my presentation from CfC2.
Note that the folding sequence for folding from a complete grid (12×12) is quite different: for example you use squashes to form the triangles instead of precreasing them up-front, and you work less in 3D since the collapse is much simpler in that case..
This model is just a box lid. You can use e.g. Plain Box as a matching bottom part.
Once you have the cleanly pre-creased sheet, you can move on to collapsing stage.