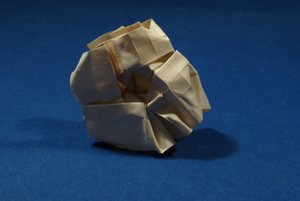 Head of Cthulhu from The Call of Cthulhu by H.P. Lovecraft. Designed and folded by me.
Folded from 2:1 paper, 32×16 grid. Due to the subject matter, I had to wet-fold while shaping this model.
This is figurative origami and a tessellation at the same time. Apart from the shaping, this model is very simple. Each eye is quite similar to my Down the Rabbit-Hole except for the consecutive twists being all the same size.
Comments