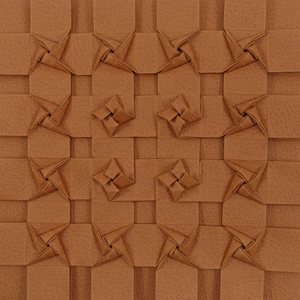 This tessellation comes in two molecule variants. Despite being a kind of twist, molecules can be made to turn left or right independent of each other, i.e. neighbors do not need to be mirror images of each other. Both variants are folded from the same base, based on a 6×6 square grid. Variant A is the one with narrower blades (molecules located around the perimeter of the model) while variant B is the one with shorter, stubby blades (molecules located in the center of the model). Later I also designed variant C which looks like a combination of A and B.
I used this model to test Biogami paper which I got interested in after seeing Nicolas Terry's penguin folded from it. You can find my review in this blog post.
The side view shows this paper's thickness and how well such thick paper works for this particular model, giving the molecules a 3D look.
Comments