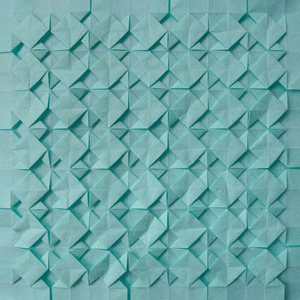 This is a tessellation many origamists discover independently, though Fujimoto was probably among the first to do so. This tessellation is not featured as a separate design in any of his books, but the same molecule is used as part of a larger composition in CFW 262 which appears on page 163 of Invitation to Creative Playing with Origami. I would have missed it, but I spotted a model consisting of just this molecule in the background of a picture taken inside Fujimoto's home that I got from Robert Lang.
While the pattern isn't very interesting in reflected light, in back-light it becomes much more appealing.
After folding this model and taking pictures, I modified it to become Electric Tessellation.
Comments