Tryzub (Coat of Arms of Ukraine)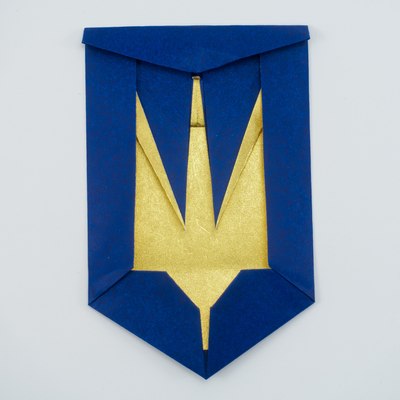 The phototutorial below shows how to fold the model. Most folds do not have exact reference folds, and you have to guess where to make them, but it's not that difficult, and you quickly see whether the guess results in the right proportions or not. You can use the image from Wikipedia page for reference.
The colors of the coat of arms are blue and yellow, and this model is best folded from a duo-color sheet, blue on one side and yellow on the other. If you do not have such paper on hand, you can make your own. One method is to glue together two sheets of different colors: this results in thick paper, but for this model this should not be a problem. The other is painting or coloring the paper with markers/crayons.
The model is folded from a 2:1 sheet, so if you have square paper, you can cut the sheet in half.