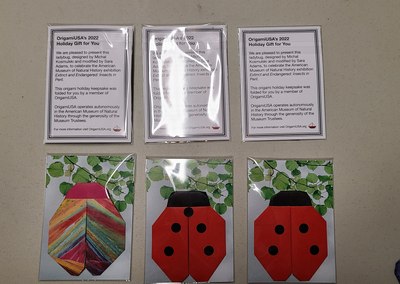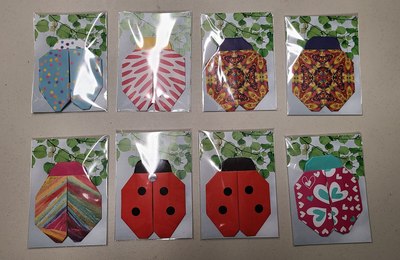 This year, Origami USA chose Ladybug 1.1 (designed by me and modified by Sara Adams) for their Annual Gift. The models shown in the pictures were folded by OrigamiUSA members and photographed by Wendy Zeichner. They were made available as a gift to those attending the Origami Holiday Tree Lighting at the American Museum of Natural History (AMNH) in New York. The model was selected based on this year's theme of Beautiful Bugs and matches the subject of the ongoing exhibition Extinct and Endangered Insects.
I'm very happy about the model being chosen for this event. I also enjoyed following the progress of folding and learning about some interesting variations the folders came up with while preparing the models.
If you want to fold a ladybug of your own, you can find links to instructions on the model's instructions page.