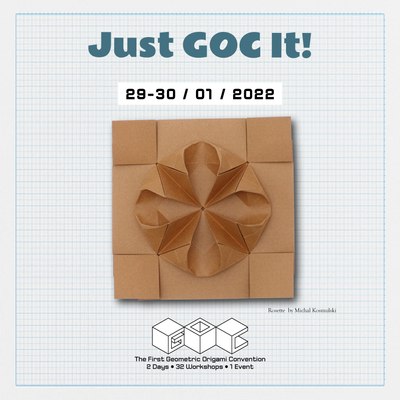 Next Saturday, January 29th, 2022 at 19:00 CET (GMT+1), I'll be giving a workshop on my origami Rosette. This is a model so new I have not posted any pictures online yet, up till now. As a bonus, you actually get two models in one since one of intermediate folding steps is in itself an interesting design I called Close Quarters Folding.
The workshop will be a part of GOC — the first Geometric Origami Convention:
32 workshops in two parallel classes.
Learn from the authors of 14 books!
A mix of new and classic models!
Enjoy the Origami Lounge between the workshops!
Recordings will be available for 6 months!
Dates: 29-30, January 2022.
We highly recommend downloading the Program booklet from the event page on Mixily. Or, download it directly from here:
In the booklet, you'll find an explanation on how to convert the times to your local time, or to add the events to your calendar.