Complete Website Overhaul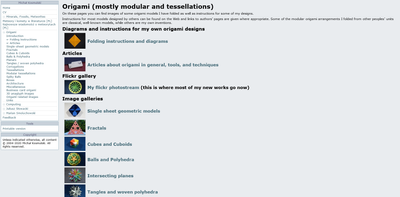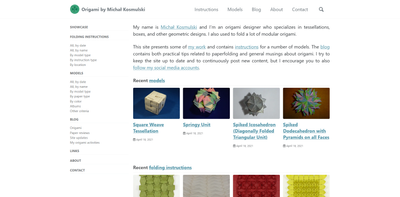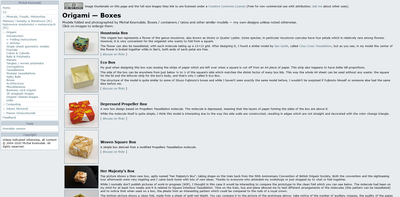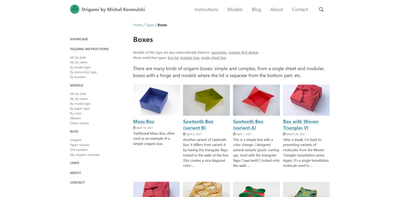 My origami website has been online since 2004, and as of 2020 it looked dated, especially on mobile devices. It was also becoming difficult to maintain and add new content to, which caused my activities on the page to slow down practically to a halt. I had been thinking about a major remodeling for a few years, but it was only at the end of 2020 that I finally found the time to actually do it, and it took me until April 2021 to actually implement the changes.
The new version which I'm publishing today has all the content which was available on the old site, with some major additions.
A completely new page layout which works well both on a big screen and on mobile devices.
New site structure. The old site was built around pages containing lists of images. The new site is centered around models, folding instructions, and blog posts, each having its separate page. This allows, among other things, keeping all information about a model (e.g. different pictures) together, and convenient linking between different pieces of content. Models can be navigated based on several criteria, including the designer(s), model type, and paper type. I plan to write a separate blog post about the data model of the site some time.
A new classification of model types, which I plan to expand upon later in a separate blog post.
Search function.
A number of new models and folding instructions which were published on social media before but not on my site.
A few models not published anywhere before.
Pictures of old models were replaced by full-resolution versions.
Lots of new information added here and there, many small fixes and updates.
Models and blog posts have publication and update dates. For all content which has been already been published on my site or in social media, I set the publication date to the earliest date of publication anywhere. New content has the publication date set to release date of the new site, and stuff added later will be dated accordingly.
As of today, the site has all content of the old site, all content I published anywhere since the beginning of 2021, and lots of older content which was published on social media but not on my page. I plan to gradually add all missing content I published on social media so far, but this is going to take a little more time.