Bench with origami Pajarita in Huesca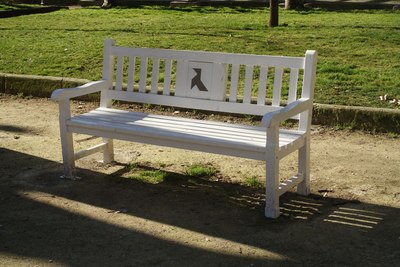 It's been a week already since CfC 2, the origami Conference for Creators. It was very inspiring to meet so many great designers there. The convention took place in Zaragoza, Spain, and the city itself, with the old town and many monuments in the unique Mudejar style, gave me some interesting ideas as well (tessellations coming up, hopefully).
On one of the days, we had the opportunity to visit Huesca, a city about an hour's drive from Zaragoza. Huesca claims to be the place of origin of origami Pajarita, a traditional model which in Spain is considered the symbol of origami, like the paper crane in other places. The Pajarita is present in many places throughout the city, including a large monument, and you can even buy Pajarita-shaped cookies. Benches like the one shown in the picture line up a tree avenue in the park leading up to Pajarita monument.