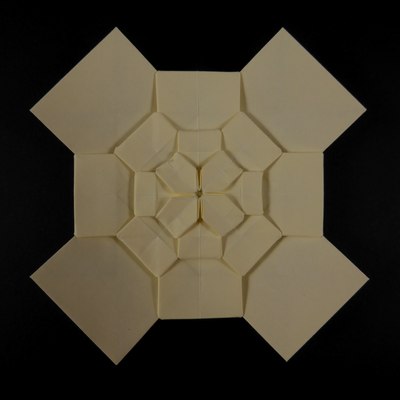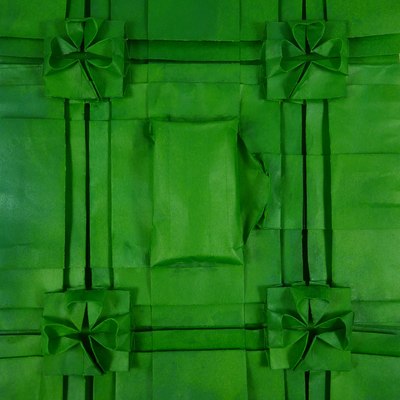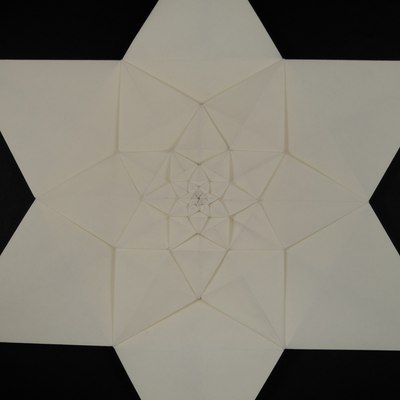 I folded Leafless Hydrangea in order to test a new kind of paper which I ran into at a local art supply store in Warsaw, Poland. It's Fabriano Palatina paper and my first impressions are very good.
The paper I bought is rated at 100 gsm which is just right for most of the models I fold, but the manufacturer also advertises other weights, from 70 to 230 gsm. The 100 gsm version is reasonably thin for its weight, and it folds quite well. While folding the Hydrangea, I had no worries about it tearing.
There is significant anisotropy (difference between folding with and against the grain), as with most machine-made papers. The producer claims this paper to be acid-free and "long life". One big culprit is that there is just one color, ivory. However, it looks really nice (there is a subtle pattern in the color), and it accepts acrylic paint well. Since the original color is very bright and almost neutral, it is easy to cover it well with paint of almost any color.
My general feeling was that this paper is in many respects similar to Elephant Hide, however it is not coated, and the surface is rougher than EH. One big advantage in my case was it being available at a local store and a price about 1/10th of EH (PLN 1.80, about €0.45, for a B1 sheet 100×70 cm). All in all, I think I will be using this paper more often, especially when I plan to paint the paper anyway.
Update after folding Happy St. Patrick's Day! from Palatina paper painted with acrylic paint: I was originally very enthusiastic about this paper, comparing it even to Elephant Hide, but when folding this more complex model, I noticed more of its limitations. Paint tended to peel off along the creases and in a few folded corners with lots of layers, the paper even tore a little. It did the job, but was not quite as close to perfection as I had hoped. On a positive note, shaping went quite well as this paper is softer than EH, and it was easy to make the curved folds in the shamrocks. I'm not really satisfied with the shaping of the tankard, but this is more about my skill than about the paper.
Update after folding Lucky Star Fractal (level 7) from a hexagon cut out from a B1 sheet of 70 gsm Palatina paper: the 70 gsm version of the paper feels thin (for my standards). Creases can be folded sharp, and they reverse well. The paper is quite rigid and did not stretch much while folding, which allowed for good precision. It also exhibits good memory — folded creases stay folded. The only culprit I ran into was strength: when I got to level 5, my sheet tore at a point where many creases meet. I was able to finish the model, and it did not tear anywhere else, but nonetheless, this incident shows the paper's limitations. However, it also has many good properties, and given its low price I think it is a good choice for many models, except perhaps the more demanding ones.