Origami short film from 1962 ("Oczekiwanie" — "Awaiting")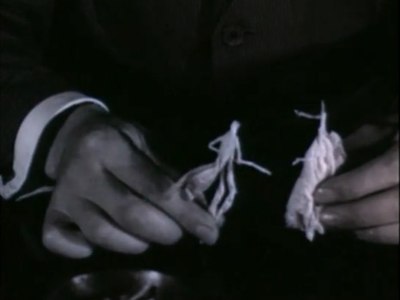 I recently stumbled upon a 1962 Polish short film which features origami. It is called "Oczekiwanie" ("Awaiting"). A man is waiting for a lady at a restaurant table and starts folding napkins to kill time. The figures he folds come to life. The origami he folds features some tearing of the napkins and crumpling, so it's more in the style of Alizee Glaser than typical origami models. Still, it was interesting to find such a trace of origami from quite a while ago.
The movie is available on YouTube (search for "oczekiwanie 1962" if the link stops working).
Title: Oczekiwanie (Awaiting)
Year: 1962
Screenplay: Witold Giersz, Ludwik Perski
Director of photography: Jan Tkaczyk
Scenography: Witold Giersz, Ludwik Perski
Music: Zbigniew Rudziński
Sound: Jan Radlicz
Executive producer: Magdalena Barycz